1Staff 365 Front Office and Microsoft Dynamics 365
1Staff 365 Front Office is powered by Microsoft Dynamics 365 (D365), an intelligent CRM and ERP platform used by millions around the world. As such it benefits from both Microsoft Dynamics 365's powerful reporting, analytics and AI driven insights and the wider Microsoft platform benefits. For example, the amazing new Search.
The amazing, sophisticated search engine behind 1Staff 365 Front Office.
Search your data
1Staff provides many ways to search your data, quick find, and of course its powerful built in search and match allows you to identify, rank, and match talent and jobs.
But it also has an amazing secret weapon that allows actionable search across every aspect of the solution, from marketing, sales, operations, and compliance. A genuine 360 on the lifecycle of a customer, vendor, candidate, from prospective, nurtured through to reengagement or offboarding. All these data points can be found from one search bar almost rendering the need for menus, list and views as unnecessary to be product fast.
Can you search across every relevant record and field to find a match for a candidate across all activities, related jobs, assignments, all communications? When all this data can be reached at the touch of button it brings obvious benefits but it also helps with more fundamental requirements like consumer privacy. Can you identify all relevant consumer data without a massive painstaking audit?
With 1Staff you can search for anything java related from onboarding tasks, job roles, text in resumes, tasks, leads, opportunities, and the list goes on.
Quick view of recent rows and searches
With 1Staff you can see your recent searches and recently accessed rows when you select the search box. Before you start typing in the search box, you'll see information pop-up that helps you complete your search.
From here you can jump straight to the record, share, assign and launch a communication.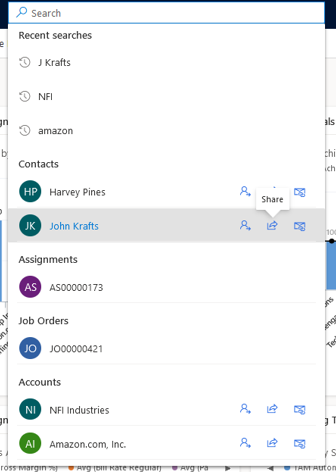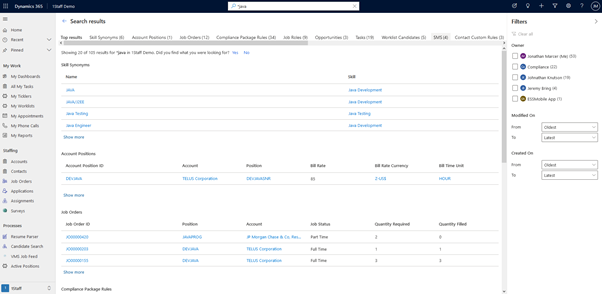 Inline suggestions
As you start entering text, you'll see suggested results that help minimize keystrokes and simplify page navigation.
With suggestions, you can access your information quickly by using minimal keystrokes even when the search term is misspelled by a character. Text that's highlighted in bold in the suggestions shows the term that was matched.
The results don't just take to where you want to go but they provide connections and insights. They bring together records and data that in most Front Offices remain disparate hiding latent opportunities.
There are smarts everywhere, powered by AI, natural language understanding that adds to the productivity dividend.
Search results page
Within a quick step you can see the results of a full search.
Search results are ranked based on relevance and grouped by all the key records from Accounts, Jobs, Text Communications across every relevant facet of the solution. A Top results tab displays the top 20 results for the search term.
Filter results with context relevant filters
On the search results page, you can use filters to refine and explore your search results. These are not just standard filters such as Owner, Modified or created on but filters relevant to each record type, such as questionnaire points scored for a questionnaire response or position and account for Job Order results. The beauty is what you display, what you search on is completely configurable.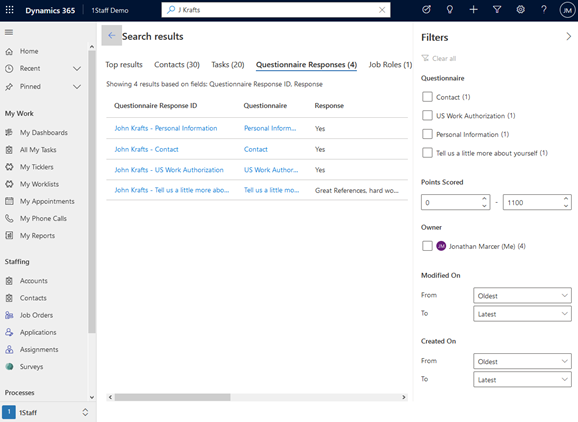 Want to find out more about Sophisticated Search?
1Staff boosts efficiency, increases productivity, generates insights, maximises margins, and improves cash flow. Whether you are looking for a full suite of functionallity, or a robust front office or back office to integrate with your existing solution, 1Staff has you covered.
More from 1Staff Staffing Software