The need to comply with localization (adapting software to meet country-specific laws and regulations) has introduced new levels of complexities and compliance obligations. 1Staff Back Office and ERP system Microsoft Dynamics GP address just that.
Historically, there were three different languages released for Microsoft Dynamics GP- English, French, and Spanish. These were hardcoded. At that time, users were allowed one language/localization. If a user wanted to have multiple languages on the same workstation, then they would have to have install GP multiple times which created redundancy. This can still be seen in some solutions today. 
Now, 1Staff Back Office built-in Microsoft Dynamics GP supports 27 different unique languages and localization. Languages/localizations are saved in a GP directory and you need only one Dynamics GP instance running. Users can choose the language/localization and don't have to switch companies.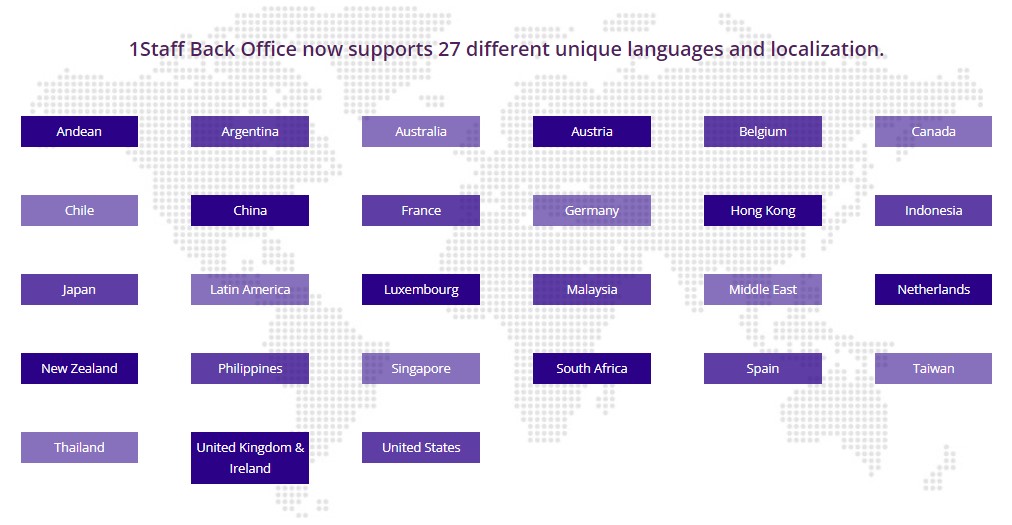 Even if you have the same language, there's going to be different localization. For example, Spanish in Chile or Argentina is going to be different than in Spain or Latin America or Central America. American English may use the term customer or vendors, while in other parts of the world they may be debtors or creditors.
Want to find out more about 1Staff Staffing Software?
1Staff is the leading staffing software and recruitment solution that fully leverages the Microsoft Dynamics platform.
Professional Advantage Managed Services
Want to find out more information on how Professional Advantage can help you with your security needs?
Please contact us to start your discussion about how our Managed Services team can help