Innovate quickly and easily using a single platform that connects your data, automates workflows, and leverages the power of artificial intelligence.
The Power Platform Components
Microsoft Power Platform is the collective name of these powerful products designed to democratize application development.
Microsoft Power Apps
Empower your users to build web and mobile applications, even without writing codes rapidly. Power Apps allow your people to connect your data, apply the business logic, and design the user interface to quickly develop custom apps that your business currently needs, without costly IT development projects.
Microsoft Power Automate
Automate repetitive and time-consuming tasks, simplify workflows, and optimize your business processes with Power Automate (formerly known as Microsoft Flow). It is the top business process management solution of choice by many new BPM users with its easy to use process automation templates.
Microsoft Power BI
Enable your users with the ability to interact and interrogate your business data easily. Power BI makes that possible with its self-service enterprise business intelligence platform. It provides you with rich data visualization and reporting, allowing you to make informed decisions quickly and confidently.
Microsoft Power Virtual Agents
Build an AI-driven, conversational agent that can assist your clients or respond to inquiries the natural way. Power Virtual Agents allow your users to build no-code to low-code chatbots so you can free up your people from responding to repetitive questions or performing recurring administrative tasks.
Modernize your business with the Power Platform
Integrate with hundreds of apps and data sources to optimize your business processes, create better customer experiences, and empower your people to do more with less resources. Check out some of these platforms that you can connect the Power Platform with.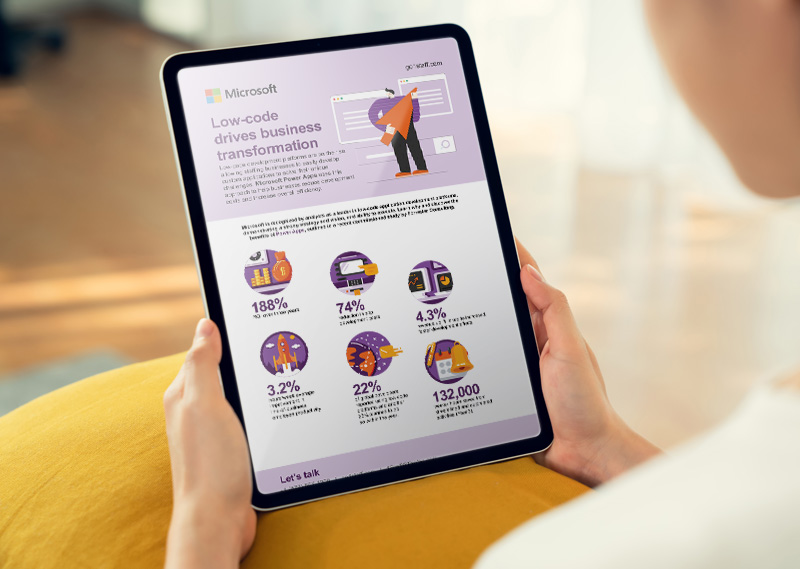 Low-code drives business transformation
Low-code development platforms are on the rise, allowing staffing businesses to easily develop custom applications to solve their unique challenges. Microsoft Power Apps uses this approach to help businesses reduce development costs and increase overall efficiency.
Microsoft is recognized by analysts as a leader in low-code application development platforms, demonstrating a strong strategy and vision, and ability to execute.
View Complete Infographic
Want to find out more about Microsoft Power Platform?
1Staff boosts efficiency, increases productivity, generates insights, maximizes margins, and improves cash flow. Whether you are looking for a full suite of functionality, or a robust front office or back office to integrate with your existing solution, 1Staff has you covered.
More from 1Staff Staffing Software