1Staff 365 Front Office and Microsoft Dynamics 365.
1Staff 365 Front Office is powered by Microsoft Dynamics 365 (D365), an intelligent CRM and ERP platform used by millions around the world.
 As such it benefits from both D365's inbuilt powerful reporting, analytics and AI driven insights and the wider Microsoft platform benefits, for example, allowing you to enrich your Staffing solution with Power BI. 1Staff provides many tools to report on your data. It enables your team to easily manage their work from marketing leads to sales opportunities to assignments and all the activities in between. In addition to providing tons of ways to automate, coordinate and monitor these business processes, the software also has a lot of great options for data reporting and visualizations.
What do you need from your reporting tool?
Powerful interactive Dashboarding.
Empower your team with role-tailored dashboards that combine multiple interactive graphs and data grids. You can create new dashboards in minutes, see relevant filtered data immediately.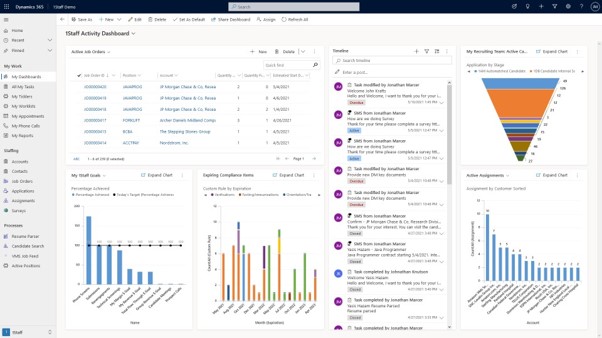 Flexible Actionable Views.
A view is an easy to use reporting tool, with 1Staff you have many of these predefined views. With one click views can be customized or added to meet your precise needs.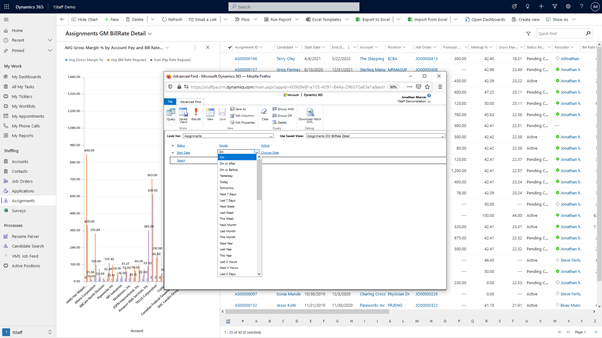 Enrich with Power BI.
Out of the box, you can embed Power BI into Microsoft Dynamics 365 personal dashboards. Power BI is the "go-to" platform to deliver data-driven insights into everyone's hands.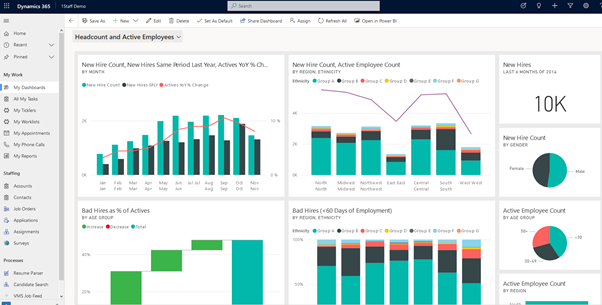 Rich Visual interactive charts.
While a view is an excellent way to find and report on data, it lacks the beauty and summarizing power of a chart. One of the great features of the chart is it allows the end user to interact with the chart to filter the data in their view and drilldown layer by layer into the underlying data. It is great for this kind of data exploration.
For example, a chart summarizing expected revenue per month allows you to drill into a specific month to chart expected revenue by say account and then by assignment. Not only can you see the expected revenue, but also identify the Sales Rep and Recruiter responsible as well. Switching between views and charts is easy, you can quickly see and select a different chart over a different view, side by side, using the chart to filter your view, if find then act.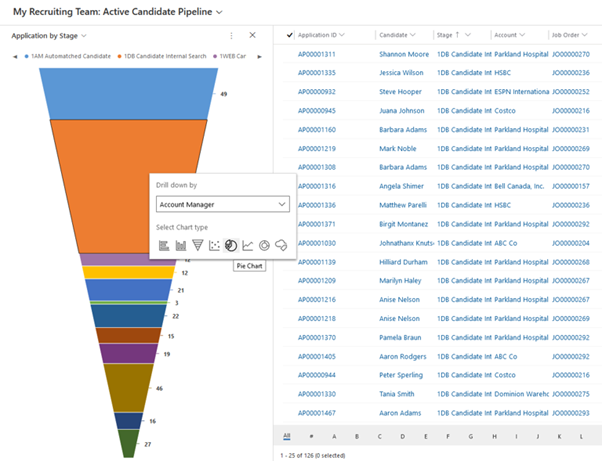 Add the power of 1Staff Analytics.
1Staff Analytics is designed ready to go for visualization in Power BI and therefore availability in 1Staff Front Office and D365.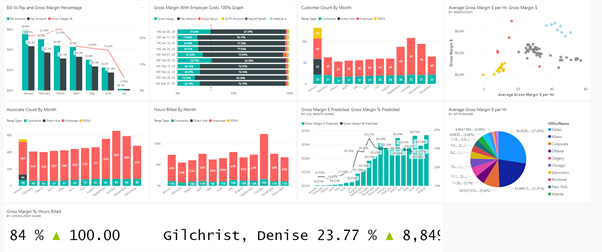 Want to find out more about 1Staff Staffing Software and Recruitment Analytics?
1Staff boosts efficiency, increases productivity, generates insights, maximizes margins, and improves cash flow. Whether you are looking for a full suite of functionality, or a robust front office or back office to integrate with your existing solution, 1Staff has you covered.
Is this solution the right fit for my business?
At Professional Advantage, we like to give our clients the right options. Our technology experts take the time to listen to and discuss your organization's unique business requirements and then make their recommendations based on industry knowledge and years of experience implementing solutions across a variety of businesses.