1Staff is a staffing software solution that fully leverages the Microsoft Dynamics platform.
To find out more read one of our Staffing Software brochures, whitepapers or blogs. Can't find what you're looking for or you need more information then get in touch with our Staffing Specialists?
1Staff Staffing Software Front and Back Office
Professional Advantage Managed Services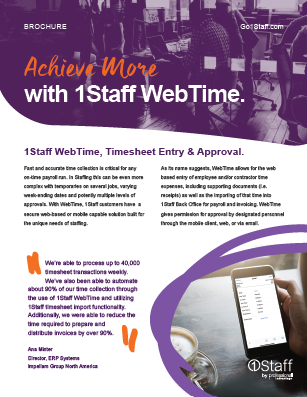 1Staff WebTime, Timesheet Entry & Approval
Fast and accurate time collection is critical for any on-time payroll run. With WebTime, 1Staff customers have a secure web-based or mobile capable solution built for the unique needs of staffing.
1Staff WebTime, Timesheet Entry & Approval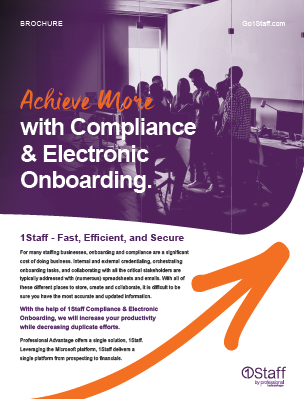 1Staff Compliance & Electronic Onboarding
Professional Advantage offers a single solution, 1Staff. Leveraging the Microsoft platform, 1Staff delivers a single platform from prospecting to financials.
1Staff Compliance & Electronic Onboarding
1Staff Imaging
Accelerate your invoicing process with 1Staff Imaging. 1Staff Imaging allows your team to enter time from an image and then link that image of the timesheet to an invoice.
1Staff Imaging
Want to find out more about Staffing Software Resources & Brochures?
1Staff boosts efficiency, increases productivity, generates insights, maximizes margins, and improves cash flow. Whether you are looking for a full suite of functionality, or a robust front office or back office to integrate with your existing solution, 1Staff has you covered.
More from 1Staff Staffing Software