It was great to see so many familiar faces at Executive Forum North America in March 2023.
What an event! The event brought together business leaders to share insights and exchange ideas on the theme of 'The Next Generation of Staffing'.
One of the highlights was Neil Richardson's panel on "Making Technology Work for You: Getting the Most Out of Your Recruiting Tech Stack," which sparked an interesting conversation among the attendees.
Organized by Staffing Industry Analysts (SIA), a global advisor on staffing and workforce solutions, the Executive Forum North America is a premier summit for staffing leaders to learn about key industry trends and network with peers.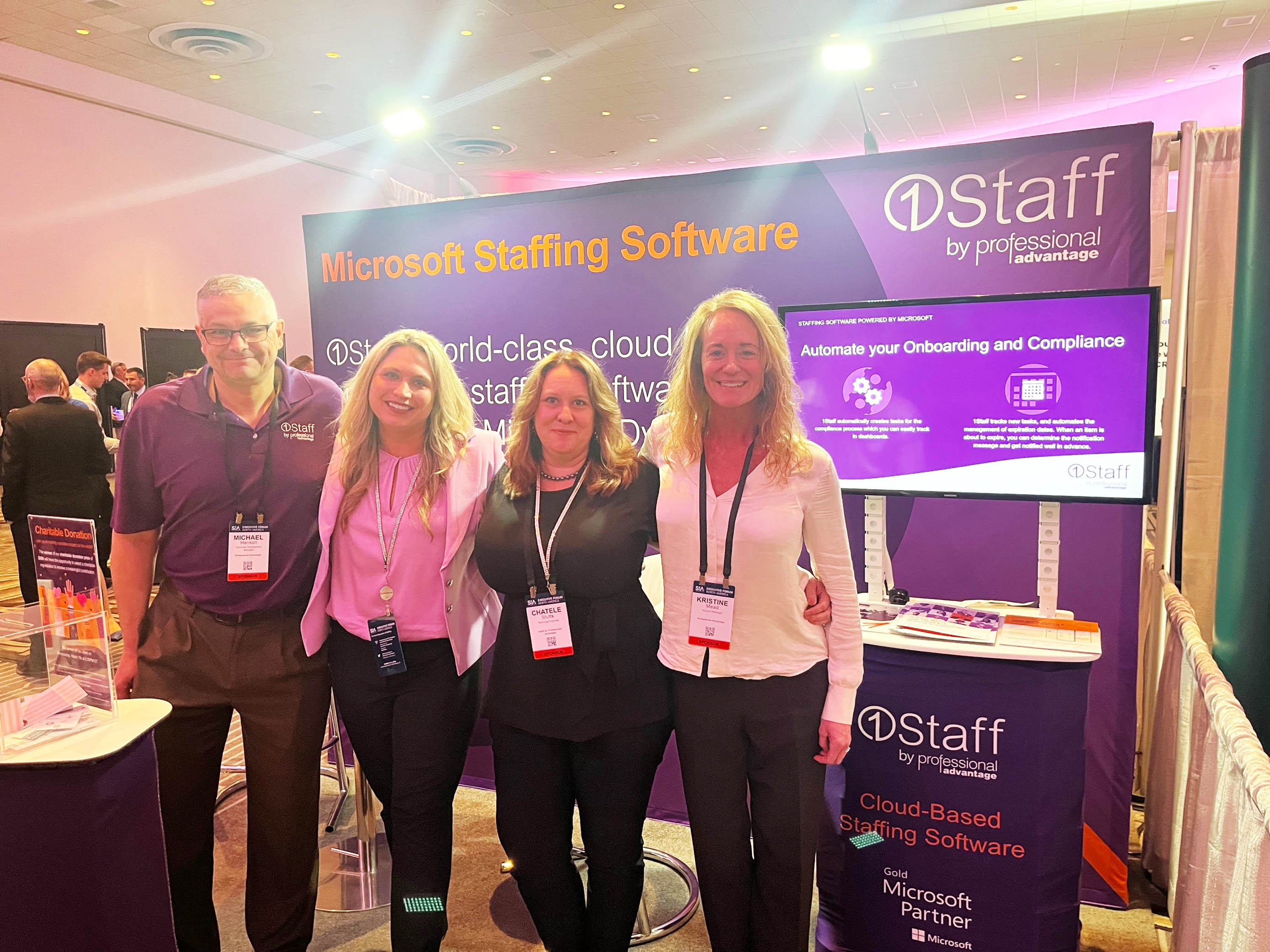 The 1Staff Team at the Executive Forum 2023
Built to fit the unique needs of the staffing industry, 1Staff by Professional Advantage is a world-class, cloud based, end-to-end staffing software powered by Microsoft Dynamics 365.
1Staff is an all-in-one solution for staffing and recruiting agencies. Helping you to fill jobs faster and keep your company fresh in client's mind. 1Staff allows your team to deliver results with a wide tool set from business planning to budget tracking; marketing and lead generation through customer engagement; applicant tracking; compliance and onboarding; time capture; bill & pay to full ERP financials. 1Staff delivers organizations 360-degree control and visibility.
We don't cut and paste solutions. We customize solutions around your business. With Microsoft Dynamics, you are in control.
Are you attending SIA Executive Forum? Let's Connect.
We're looking forward to seeing you there. March 6th - 8th in Miami.
Full end-to-end staffing solution.
1Staff by Professional Advantage is a proud member of Staffing Industry Analysts (SIA).
Want to find out more about 1Staff Staffing Software? Watch a short video.
1Staff Front Office – Staffing Software Powered by Microsoft Dynamics 365 from Professional Advantage.
1Staff Back Office– Staffing Software for the Staffing Industry built on Microsoft Dynamics GP.
Customer Story– Learn how our clients are achieving more with 1Staff staffing software technology.
More from 1Staff Staffing Software.