Unlock Growth Potential: Transform Your Staffing Business with 1Staff's Comprehensive ERP Solution.
Are you seeking to elevate your staffing business to new heights?
Look no further than 1Staff, a powerful all-in-one solution designed to empower staffing organizations. Developed by Professional Advantage on the Microsoft Dynamics platform, 1Staff is tailored to meet the unique demands of complex and rapidly expanding staffing organizations.
1Staff 365 Back Office serves as a fully integrated system within Microsoft Dynamics 365 Business Central. It streamlines your workforce's time capture, simplifies the payroll and billing processes, and provides executives with the tools they need to effectively manage and grow their business.
"In order to thrive you need to make a change."
Our billing engine offers unparalleled flexibility, allowing you to customize billing formats, frequencies, and substantiations to match your clients' specific requirements. This level of customization enhances your reputation and service quality.
With 1Staff 365 Analytics, you'll gain access to timely performance reports and critical metrics that are vital for attracting and retaining clients. Additionally, 1Staff offers fully integrated payroll extensions for Microsoft Dynamics 365 Business Central, providing the efficiency and compliance capabilities expected from a robust payroll system.
Say goodbye to the challenges of managing disparate applications, complex integrations, and reporting nightmares. 1Staff, in conjunction with Microsoft Dynamics 365 Business Central, seamlessly consolidates your operations into a unified order-to-cash platform. This single sign-on experience ensures that all transactions work seamlessly with a unified financial ledger, ultimately giving your team the tools they need to acquire new clients, boost profitability, and reduce operational costs.
1Staff doesn't stop there – it leverages the power of AI, machine learning, workflows, and automations to supercharge efficiency. Enjoy effortless integration with Office and Team, and gain a comprehensive view of your business through built-in intelligence that's accessible whenever and wherever you need it. Plus, tap into a vast array of marketplace apps and APIs to seamlessly connect with your front office and other essential systems and services.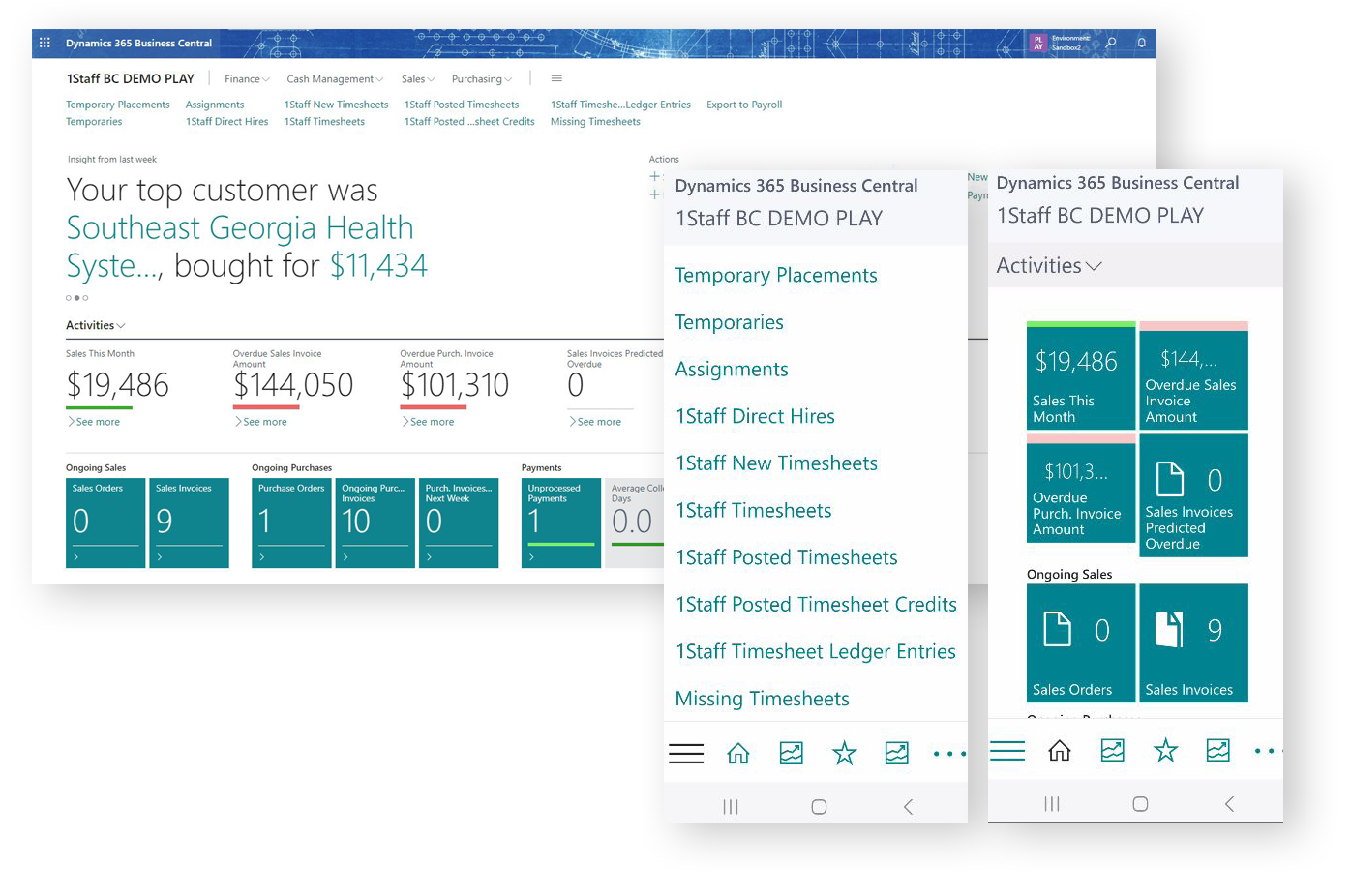 It's time for a transformation.

Full order-to-cash & record-to-report management & visibility

Scalability at its core, the engine for growing staffing companies

Lights out processing with your front office

Bringing your disparate data together

Microsoft Cloud including leading edge AI, machine learning, automation & security
Insight & metrics, driving compliance & decision-making
Elevate your staffing business with 1Staff and take a step toward a brighter and more efficient future.
1Staff 365 and Business Central helps you get a full order-to-cash and record-to-report management view of your staffing business.
Connect your business.
Bring people, processes, and data together to manage your business end-to-end.
Bring your systems and processes together
Streamline quote to cash, all within Office 365
Automate and secure your processes
Make Smarter Decisions.
Get a complete picture of your staffing firm with easy to create dashboards and built-in analytics that proactively inform and guide employees.
Get an end-to-end view
Sell smarter and improve customer service
Guide employees to optimal outcomes
Start and Grow Easily.
Get up and running quickly and meet your unique business needs by easily integrating add-on applications and industry-specific solutions.
Tailor to your needs
Add industry or business extensions
Be ready for growth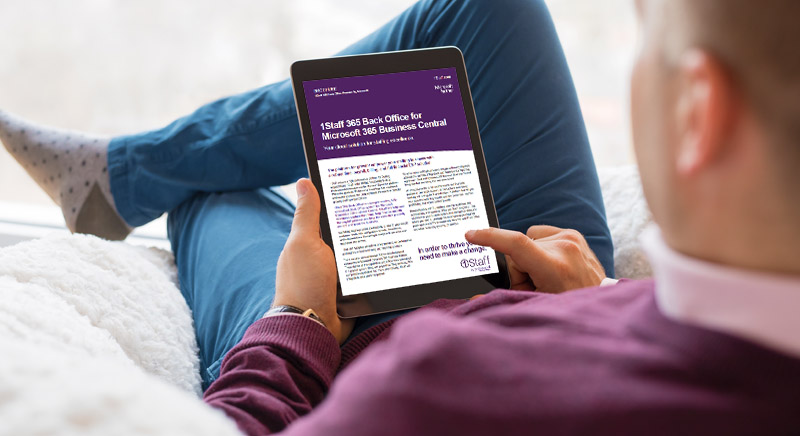 Your cloud solution for staffing excellence.
Engage your talent anytime, from anywhere. The platform for growth: empower your staffing business with a robust time, payroll, billing, and full financial ERP solution.
Download Brochure
Want to find out more about Microsoft Dynamics Business Central Full Financials?
1Staff boosts efficiency, increases productivity, generates insights, maximizes margins, and improves cash flow. Whether you are looking for a full suite of functionality, or a robust front office or back office to integrate with your existing solution, 1Staff has you covered.