Is your staffing organization considering Microsoft 365 as its first step in moving applications to hosted solutions, yet you are finding inconsistencies in your research?
For example, a common misconception about Microsoft 365 is that it is simply a version of Office accessed through a browser. Let us help you migrate to Microsoft 365 with confidence.
Separate some of the facts from fiction here's our top 10 myth-busting points for moving to the cloud with Microsoft 365.
MYTH #1
Microsoft 365 is just Office tools in the cloud, and I can only use it online.
FACT:
 Microsoft 365 is the Office you already know, plus productivity tools and security that will help you work more efficiently and safely.
Whether at your desk or on the go, you have the tools to focus on the work that matters. Since Microsoft 365 lives in the cloud, these tools stay up to date, are simple to use and manage, and are ready to work when you are.
MYTH #2
If our data moves to the cloud, our organization will no longer have control over our technology.
FACT:
 You still have total control over technology, but your IT department won't have to worry about constant updates.
Moving to the cloud saves you time on maintaining hardware and upgrading software. Letting your IT team can focus on advancing your staffing organization's technological adoption, rather than being a repair service.
MYTH #3
Keeping data on-premise is safer than storing it in the cloud.
FACT:
Security and uptime come as standard with Microsoft 365 in the cloud.
When you switch to Microsoft 365, Microsoft acts as an extension of your security team. Microsoft data centers are built with scale in mind.
MYTH #4
I have to move everything to the cloud.
It is an all-or-nothing scenario.
FACT:
You can move to the cloud at your own pace, or use a hybrid approach.
Most implementations start with a hybrid approach: move a single workload, like email, and grow from there.
MYTH #5
Cloud migration is too much for my staffing agency to handle.
FACT:
We're here to help every step of the way.
We'll help you with information and tips on firewall configurations, reverse proxy requirements, identity options, migration possibilities, and a phased approach for hybrid setups.
MYTH #6
Corporate spies, cyber thieves, and governments will have access to my data if it is in the cloud.
FACT:
  It's your data, no-one else's.
Your IT team manages access, sets up rights and restrictions, and provides smartphone access and options.
MYTH #7
We have to learn all new tools to manage SharePoint Online.
FACT:
 SharePoint Online abstracts and maintains the infrastructure, without changing anything else.
SharePoint Online has the same familiar administration and management tools, whether your deployment is in the cloud, on location, or in a hybrid of the two.
MYTH #8
Skype and Teams are one and the same.
FACT:
 Microsoft Teams is your hub for hosting productive meetings and more, not just phone calls.
Microsoft Teams is made for teamwork, providing your users with a go-to application for real-time communication and collaboration.
MYTH #9
Email isn't any simpler in the cloud.
FACT:
 With automatic updates, you don't have to worry about email downtime.
When you move your organizations email to the cloud, you can rest easy knowing that the experts who created the software are taking care of the maintenance and updates.
MYTH #10
Continuously updating Microsoft 365 will break my critical business applications.
FACT:
 Microsoft 365 updates won't negatively impact your existing applications.
Microsoft are committed to ensuring the compatibility of Microsoft 365 with the tools you use every day.
Want to read more about moving to the cloud? Download our complete eBook.
If you want to read more about the productivity and collaboration that Microsoft 365 provides, download the complete eBook.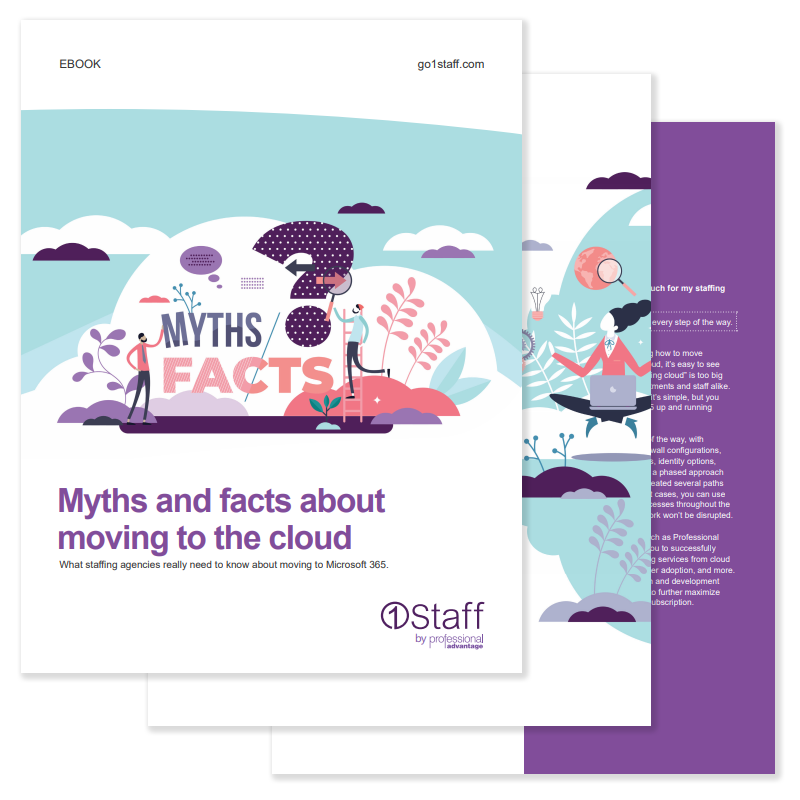 Explore the benefits of Microsoft 365 for your staffing organization. The 1Staff Team at Professional Advantage can help you pick the right plan.
Learn more and begin your Azure migration journey today!
If you'd like to find out more or talk to a specialist get in touch today.
Secure your Digital Workspace with Microsoft 365 and Azure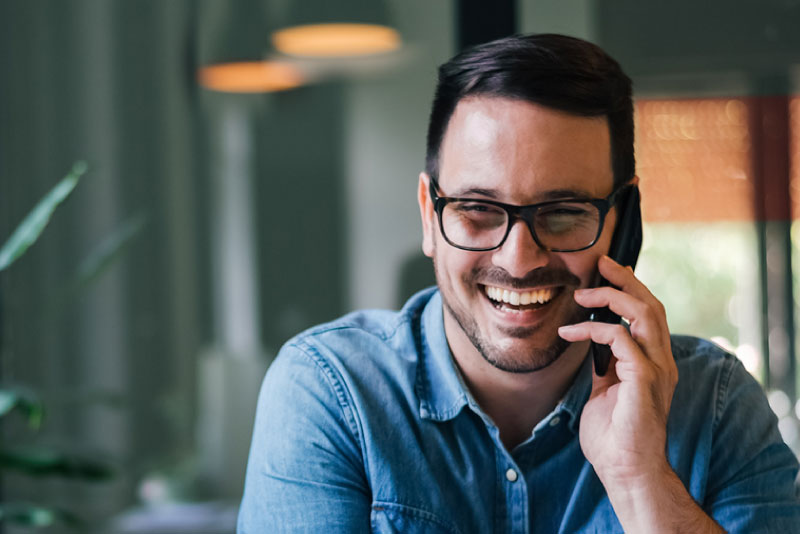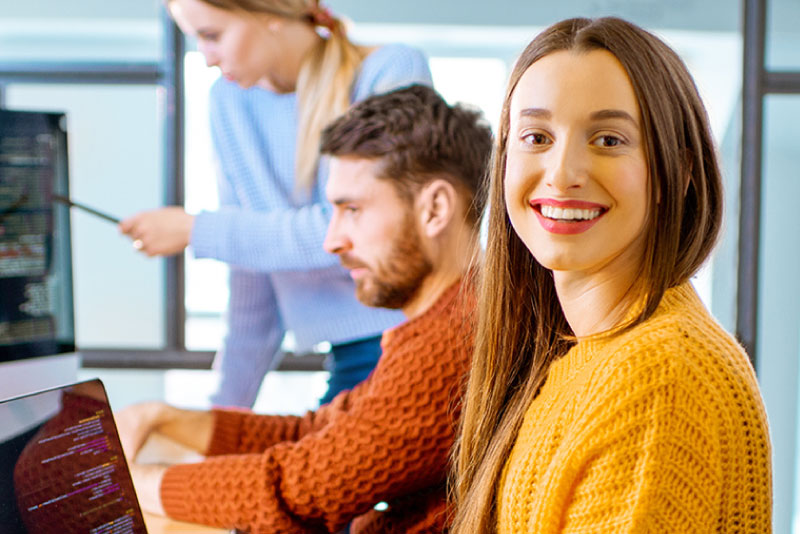 Managed Services for the Staffing Industry
Managed Services takes the complexity out of managing your IT infrastructure. Get the support you need with our Managed IT Services team.
Managed Services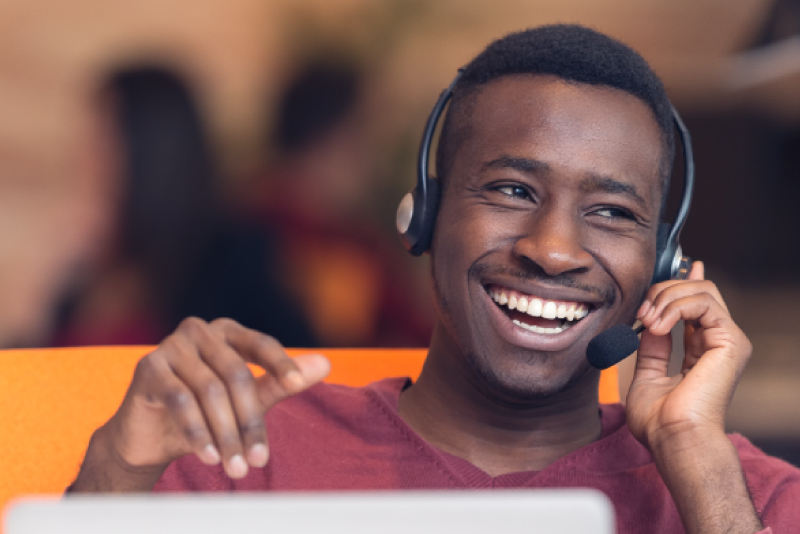 Cloud & Infrastructure for the Staffing Industry
Reduce costs, provide better IT services, improve response times, and secure your IT infrastructure.
Cloud & Infrastructure
Professional Advantage Managed Services
Want to find out more information on how Professional Advantage can help you with your security needs?
Please contact us to start your discussion about how our Managed Services team can help