Microsoft Teams made a massive and profound impact in the workplace, especially at the height of 2020's global pandemic. It was a crucial application that enabled staffing organizations to rapidly gear up for remote working within 24 hours. It has feature sets for real-time communication, virtual meetings, calls and chats in one place, centralized file storage, and is accessible on any device, making it a well-loved teamwork app.
As many staffing firms have already embraced Teams, it is quite natural for them to now explore further on what it can do. One of these is ability to develop apps that integrate to their primary teamwork hub. While Microsoft has made it so easy to build applications and integrate it to Teams (either with the use of its Developer Toolkit or Power Platform), you need to think first about what success looks like for your new app. This way, you only spend time, money, and effort on worthwhile IT initiatives that actually add value to your business.
If you are currently assessing the prioritization of apps that you plan to build internally in Microsoft Teams, then you certainly landed in the right blog.
Here are a few guide questions to help you create your decision criteria.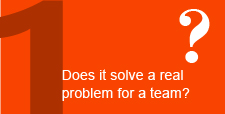 #1 Does it solve a real problem for a team?
Any IT project is born out of wanting to solve a business problem. The same approach goes into developing apps in Teams. Assess whether the app will solve a process automation, data analysis, or mobility challenge by integrating it to Teams. Seek feedback from the people that you intend to develop the app for to assess the impact it will have on their day-to-day work.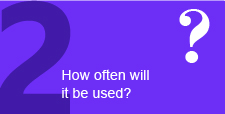 #2 How often will it be used?
What is the frequency by which the app will be used by your intended users? Your app may be used for one time only or it may be intended as a long-term solution to an ongoing problem. It goes without saying that apps that will be regularly used for the long haul and allow for more convenience when integrated into Teams warrant your effort in their development.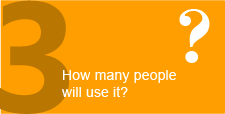 #3 How many people will use it?
It is often ideal to develop apps that will be impacted by the majority of employees within a staffing firm. The more people that request a certain functionality, the more it makes sense to pursue developing this app. However, this doesn't mean that we discourage building apps for only a few people, especially if the impact translates to better services and a more pleasant experience for the people they serve. At the end of the day, it is a decision that has to be made based on impact.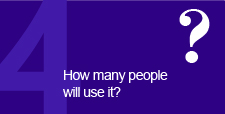 #4 What ROI does it provide for the team?
What measurable metrics can you attribute from building the app in Teams? Will it result in time or cost savings? How about non-quantifiable benefits such as enhanced productivity, better security, engaged users, or tighter team collaboration? Be sure to set some form of success metric so you can measure your return on investment from building the app in Teams. It will help you to better articulate the benefits in the future that can then be used as a basis for pursuing new IT initiatives.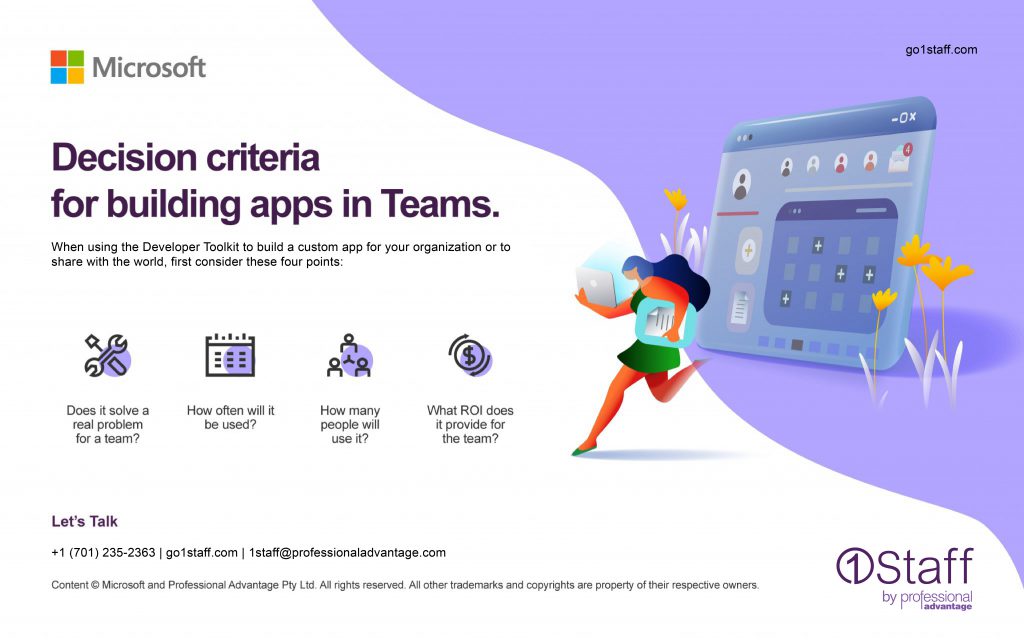 Learn more about 1Staff Staffing Software today!
If you'd like to find out more or talk to a specialist get in touch today.
Professional Advantage Managed Services
Want to find out more information on how Professional Advantage can help you with your security needs?
Please contact us to start your discussion about how our Managed Services team can help