Searching your data has never been easier.
There's many ways to search your data from 1Staff Front Office, it has a powerful inbuilt search and match allows you to identify, rank, and match talent and jobs. But it also has an amazing secret weapon that allows actionable search across every aspect of the solution.
Search across every relevant record
Now you search across every relevant record and field to find a match for a candidate across all activities, related jobs, assignments, all communications. This brings obvious benefits when all this data can be reached at the touch of button but it also helps with more fundamental requirements like consumer privacy. You can identify all relevant consumer data without a massive painstaking audit. You search for anything java related from onboarding tasks, job roles, text in resumes, tasks, leads, opportunities, and the list goes on. The results don't just take to where you want to go but they provide connections, insights, they bring together records and data that in most Front Offices remain disparate hiding latent opportunities. And there are smarts everywhere, powered by AI, natural language understanding for example that add to the productivity dividend.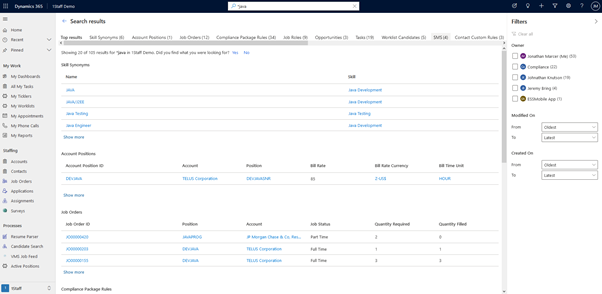 Quick view of recent rows and searches
With 1Staff you can see your recent searches and recently accessed rows when you select the search box. Before you start typing in the search box, you'll see information pop-up that helps you complete your search.
From here to can job straight to the record, share, assign and launch a communication.
Inline suggestions
As you start entering text, you'll see suggested results that help minimize keystrokes and simplify page navigation. With suggestions, you can access your information quickly by using minimal keystrokes even when the search term is misspelled by a character. Text that's highlighted in bold in the suggestions shows the term that was matched. Here are some of advanced features you can exploit:


Natural language understanding

Synonyms, acronyms, and abbreviations

The power of common knowledge


Keywords boost
Using keywords can "boost" your search for information. Entering a record type to boost search results is an easy way to indicate which results you prefer. For example, searching for Susan Adatum indicates that you're looking for a contact Susan related to the account Adatum.

Natural language understanding
Search has a better understanding of terms that are used to indicated intent. Some examples include:
Searching for open phone calls will show phone call activity records that have the status open.
Searching for contact missing email will show contacts who have an empty email address field, rather than treating missing as a keyword.
Spelling correction. Search forgives common spelling mistakes. For example, when you search for william conatc, search results will include the contact record with the name William, even though the word contact was misspelled.

Synonyms, acronyms, and abbreviations
With support for common abbreviations and synonyms, you can search for your information the way you remember it, not necessarily the way it's stored. Some examples include:
Common name variations like Bob/Robert are matched with either search term.
A search term that uses an abbreviation like active accts will be interpreted semantically as "active accounts."

The power of common knowledge
Search can understand popular locations, date, time, holidays, and numbers. For example, a search for account in WA will generate results for accounts located in Washington state.

Smart search learning
And it learns! As you go it seeks affirmation the result set helped and refines using a power AI engine behind the scenes, each time learning and improving.
Search results page
Within a quick step you can see the results of a full search.
Search results are ranked based on relevance and grouped by all the key records from Accounts, Jobs, Text Communications across every relevant facet of the solution.  A Top results tab displays the top 20 results for the search term.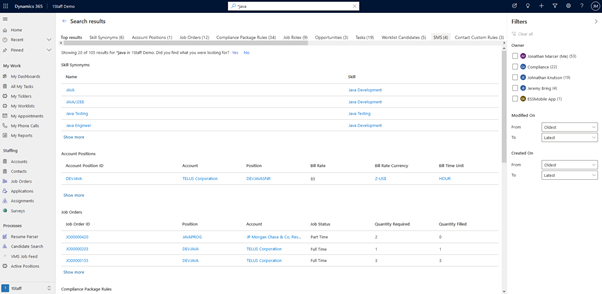 The Amazing Search engine behind 1Staff Front Office..
1Staff Front Office is powered by Microsoft Dynamics 365 (D365). As such it benefits from both D365's inbuilt powerful reporting, analytics and AI driven insights and the wider Microsoft platform benefits, for example, the amazing new Search.
Filter results with context relevant filters
On the search results page, you can use filters to refine and explore your search results. These are not just standard filters such as Owner, Modified or created on but filters relevant to each record type, such as questionnaire points scored for a questionnaire response or position and account for Job Order results. The beauty is what you display, what you search on is completely configurable.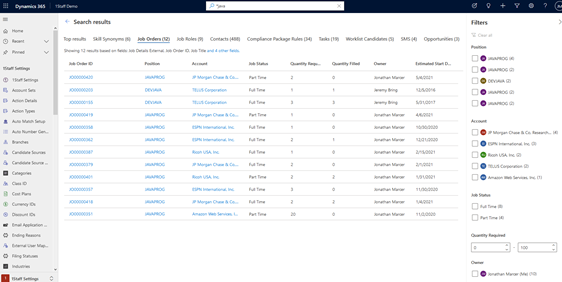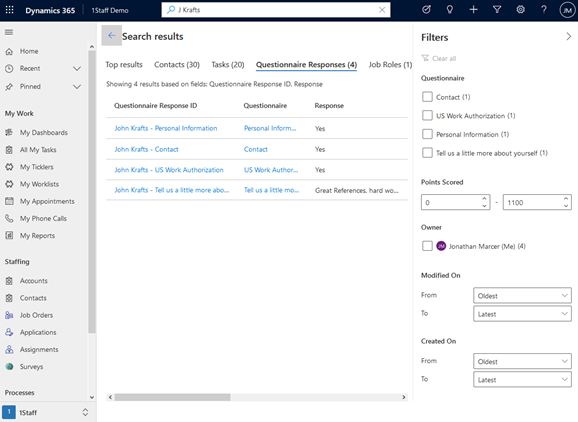 Learn more about 1Staff Staffing Software today!
If you'd like to find out more or talk to a specialist get in touch today.
Our Staffing Software solutions.
For over 30 years we have been developing solutions for Infor SunSystems & Microsoft, offering a choice of on premise, hybrid and Cloud solutions. Our broad technology portfolio means that we have the right solution to complement your unique business requirements.
Professional Advantage Managed Services
Want to find out more information on how Professional Advantage can help you with your security needs?
Please contact us to start your discussion about how our Managed Services team can help