It's no secret that spreadsheets are one of the most versatile and user-friendly tools around. They are the tool of choice for many operational and finance teams with a perceived ease of use and suitability for a range of planning, tracking, budgeting, reporting and other tasks. Consequently, many businesses rely on spreadsheets for some of their processes and have many use cases. Everyone can relate to the statement, "we have our applications AND spreadsheets."
This makes it sound like it is the norm, but it hides the fact that there are many use cases within a business. Many use spreadsheets as a valuable tool to improve personal productivity as well as other practical uses.
78% of respondents were either overwhelmed by too much poorly managed data, constrained by the access to the right data, or hamstrung by a lack of technology to use to generate insight. depend on spreadsheets for collecting data across the majority of their business units.
Source: FSNs Global Panel Survey of Decision Makers on Data Management Practices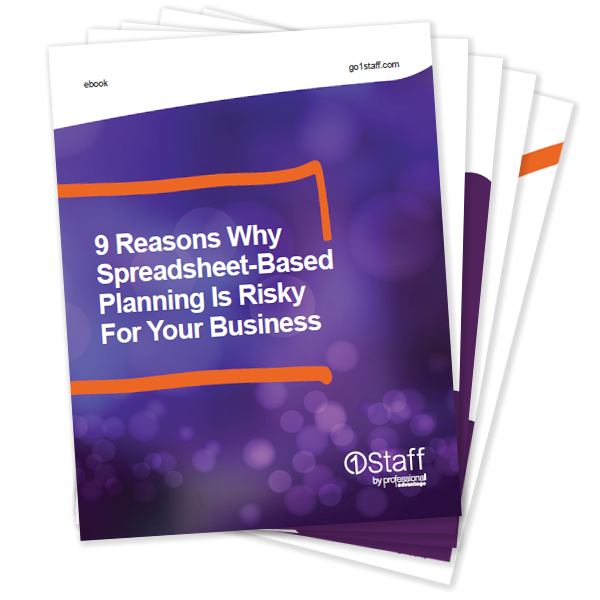 Why should you be thinking about Strategic Planning Software?
Executives and decision makers increasingly demand integrated business intelligence that incorporates real time data, rich insights and compelling visualization. Spreadsheets not only fall short on meeting these requirements, but also create significant risks in the business planning process. Here are our 9 top reasons why spreadsheet-based planning is risky for your business.

High Risk Of Errors
Data errors and broken logic, single point of failure and collaboration breakdowns.

Poor Productivity
Many companies start using spreadsheets because they are accessible, familiar and don't require additional license costs or software investment. When spreadsheets are used for business planning, it is difficult to realize a productivity dividend.

Poor Process
Planning is a structured process that involves coordinated activities, review points, workflows, interaction and collaboration. Given spreadsheets provide users with great flexibility in how they format, name, organize and analyze data, it's not particularly conducive to effective planning.

Inability To Scale
File limits on how much data can be processed means spreadsheets don't scale well. Spreadsheets often become their own data repositories. This is inefficient, risky and creates issues like files crashing or corrupting because of their size.

Lack Of Reporting Analytics
With the inability of spreadsheets to integrate real time data insights, they are not equipped to support best practice business planning.

Lack Of Engagement Due To Poor User Experience
Spreadsheets are looked on fondly by finance teams, analysts and operational staff who use them regularly, but it's a different story when it comes to executives and decision makers.

Limited Planning Features
Although spreadsheets support a wide array of calculations and other aids to assist planning, they fall short in key areas.

Lack Of Integration
Spreadsheets simply don't have the capability to integrate and analyze data across systems without relying on a separate, often deeply technical and bespoke backend application.

Reduced Business Agility To Respond To Changes
Spreadsheets are suited to a 'rows and columns' financial budget, completed once a year by finance, where circumstances allow for a long consolidation and report tail.
"Planning gave us the ability to pull data from multiple databases and we have multiple databases. We have our ERP system, 1Staff Back Office, Webtime, we have our front office system Bullhorn, and we also have other databases which eventually we would like to link to as well and pull information from. Being able to pull information from multiple systems and report that all on one dashboard and put that information together to analyze the information from is really powerful."
Karen Mann, Chief Financial Officer Ian Martin Limited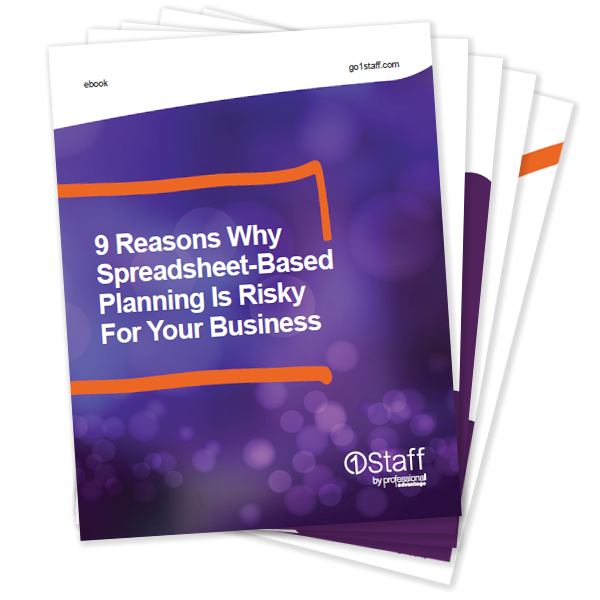 Learn more about 1Staff Staffing Software today!
If you'd like to find out more or talk to a specialist get in touch today.
Professional Advantage Managed Services
Want to find out more information on how Professional Advantage can help you with your security needs?
Please contact us to start your discussion about how our Managed Services team can help