Does your business need a better data security strategy?
Managing data used to mean simply securing documents and emails. But today's information universe is infinitely larger between pervasive digital technologies and the rapid shift to remote work. Do you know where all your sensitive data lives? And do you know who can access it?​
Cybersecurity is a constantly shifting landscape. As our digital world continues to grow, so do the risks. According to research, 83% of organizations experienced more than one data breach in their lifetime, of which 20% of data breaches are due to internal actors with an average cost of $15.4M when a malicious insider is involved. The potential cost is very significant and cannot be ignored. Data leaks and theft might be overshadowed by external threats in the past. However, they have become one of the most common vulnerability and risks that organizations need to address. 
Recent Microsoft research also shows that 80% of the decision makers purchased multiple products to meet compliance and data protection needs, with majority of them purchase more than three products. Managing a fragmented solution landscape brings more complexity to the security teams with additional costs and efforts to bring siloed signals together while building a unified remediation plan across.
"The total average cost of activities to resolve insider threats over a 12-month period is $15.4 million." - 2022 Cost of Insider Threats Global Report - Ponemon Institute
Download Microsoft's infographic:
Fortify data security to protect your most sensitive data.
Simple data security policies are no longer effective.
Today's data security demand layers of protection to help safeguard your data, wherever it lives.
Protect sensitive data wherever it lives, throughout its lifecycle
Identify risks by understanding how people access and use data
Prevent data from unauthorized use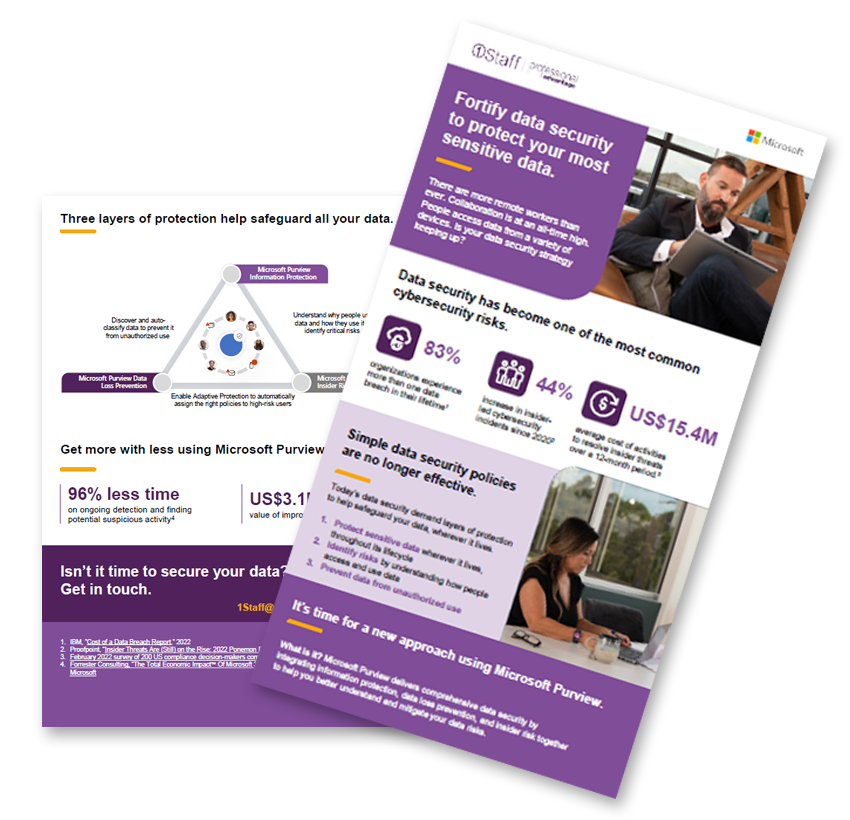 Looking for a way to simplify your IT infrastructure management and protect your valuable data? Look no further than Professional Advantage Managed Services. Our team can help you take the complexity out of IT management while providing robust data security solutions that keep your sensitive information safe.