New graduates are entering the job market with high hopes of using their degree to develop a career filled with benefits and a good compensation, to pay off their massive college loans.
Unfortunately, these grads are facing a difficult time to enter the workforce and are vying for the same positions as those that have been in the workforce much longer. There are tens of thousands of job boards and multiple ways to connect to potential employers, but let's face it; college graduates are entering the worst job market in over a decade.
You might ask, why don't a larger number of recent college graduates seek employment through a Staffing Agency? As with many job seekers, most have misconceptions about working with Staffing Agencies; including these five misleading myths about getting a job through a staffing firm:

Myth #1
I only want a "real" job, not a temporary job.

Myth #2
The jobs available through staffing companies are low paying jobs.

Myth #3
Staffing firms charge a fee to use them.

Myth #4
Assignments only last a couple of weeks at a time at the most.

Myth #5
The temporary jobs available through staffing companies don't offer benefits.
So, why waste your time and recruiting efforts busting these myths just to hire graduates?
The Graduate Recruitment Bureau lists 7 benefits of Hiring Graduates:
1) Affordable
2) Proven ROI
3) Ready to mold
4) Solid business skills
5) New perspectives
6) Productivity
7) Succession planning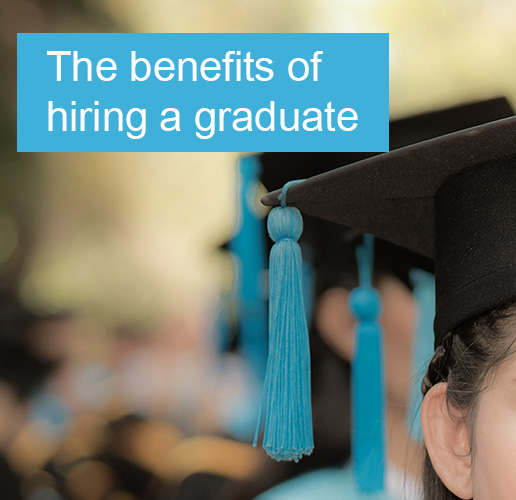 So what does the future hold for recent graduates?
The Coronavirus pandemic has created a brutal job market for the Class of 2020.
This is evident in the percentages of employers that are planning to increase and decrease their college hiring this year. According to the Job Outlook Survey by the National Association of Colleges and Employers more than half of employer respondents expect to maintain their hiring level from 2020, 31% expect to decrease their hiring this year, while 16.5% are planning to increase their hires this year.
With fewer campus offers being made by companies it seems only right that Staffing Agencies stay ahead of the game and recruit these qualified graduates.
Now, where do you start on your graduate search?
Start by setting up a quick meeting with the Career Counselors in the career office. They may even be a little naive about what your Staffing Agency can offer their grads. You may find yourself surprised to find out how many different avenues you can choose to participate in; from seminars, workshops, networking programs, and online job and internship lists.
However, recruiting on campus is no longer the only way to reach upcoming new grads. There is no denying that graduates do the majority of their job search online, and typically have a smartphone nearby. Posting on your company website, online search engines and social media sites are a necessity. Keep in mind that that these avenues need to be mobile friendly.
These are just a few ways to start targeting new graduates. Perfect timing, as it's approaching that time of year when graduates are flooding the job market and approaching potential employers searching for work. This is only fitting, since employers are setting their budgets for 2021 and should be equipped with the number of employees they can afford to hire.
Hiring is a two-way street, and graduates should also be doing their research on the best staffing agency for them.  For those graduates reading this, and wondering where to start, there are several great resources out there for you. You can start with How Should You Choose a Staffing Agency? By the Best Staffing Agencies.
So, Recruiters, how are you going to fill those Job Orders? Do you have proven tactics for targeting recent grads? Let us know in the comments below!
Learn more about 1Staff Staffing Software today!
If you'd like to find out more or talk to a specialist get in touch today.
Professional Advantage Managed Services
Want to find out more information on how Professional Advantage can help you with your security needs?
Please contact us to start your discussion about how our Managed Services team can help